---
Home | Guestbook | Reenactors Corner | Sharpe's World | Useful Things | Gallery
---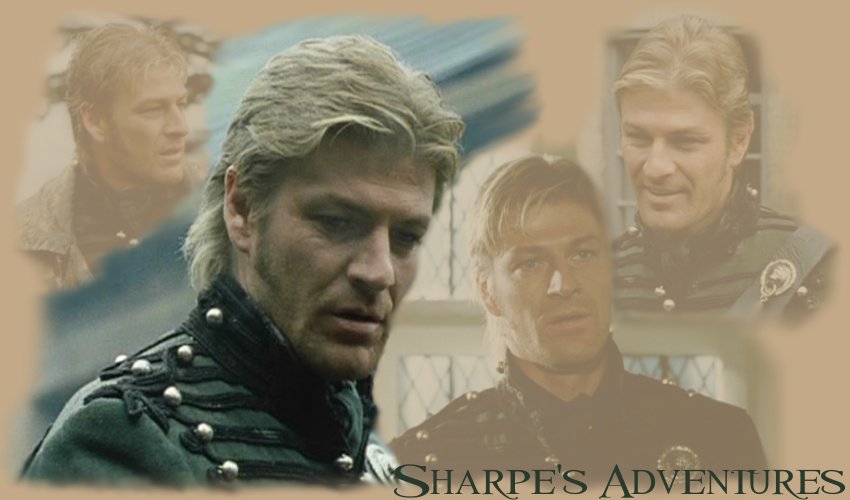 ---

Sharpes Rifles
Portugal 1809
Fast moving, hard-hitting action adventure filmed on location in the Crimea, Portugal and England brings to the screen all the danger, romance and sheer spectacle of one of the bloodiest periods in English warfare. Richard Sharpe rises through the ranks of Wellington's army by his courageous and daring exploits. He and his men operate behind French lines, risking their lives to undermine Napoleon's forces.

Richard Sharpe is a scrappy Sergeant with the second Battalion of the 95th Rifles. After bravely saving the life of the Sir Arthur Wellesley (the future Duke of Wellington), Sharpe is rewarded with a field commission, making him a lieutenant. In command of the 95th Rifles under Captain Murray, Sharpe soon finds that they are an undisciplined bunch. Neither Murray nor the men of the Rifles are prepared to accept Sharpe's command, because 'proper' officers are not raised from the ranks. His first mission is to go behind enemy lines to locate James Rothschild, an agent missing in Casa Antiga, with badly-needed funds for the British army.

Sharpe has his first encounter with Commandante Teresa and Major Don Blas Vivar, on watch in the hills when Sharpe's company is attacked. All except Sharpe and a small band of Chosen Men are killed. Sharpe continues with the mission he has been given, and Teresa and Blas Vivar agree to go with Sharpe to Casa Antiga if Sharpe will accompany them on their own mission to Torrecastro afterwards.

When they find Casa Antiga, it has been attacked by the French under Colonel de l'Eclin, but there is no sign of Rothschild. Left behind are a Methodist couple, Mr. and Mrs. Parker and their daughter Louisa. The family are taken into Sharpe's protection.

Sharpe discovers his real mission is to escort one of Spain's holiest relics, an ancient flag, and he doesn't wish to continue to Torrecastro. But Vivar's request is reinforced by the appearance of Maj. Hogan, Wellington's 'exploring officer'. Sharpe is ordered to hold the town while the relic of St. James is flown to inspire the Spanish to rise up against the French.
CAST
Sean Bean:
Richard Sharpe
Assumpta Serna:
Teresa
Brian Cox:
Hogan
David Troughton:
Wellesley (Wellington)
Simon Andreu:
Vivar
Daragh O'Malley:
Harper
Michael Mears:
Cooper
John Tams:
Hagman
Jason Salkey:
Harris

| | |
| --- | --- |
| Paul Trussell: | Tongue |
| Lyndon Davies: | Perkins |
| Julian Fellowes: | Major Dunnett |
| Tim Bentinck: | Captain Murray |
| Richard Ireson: | Sgt. Williams |
| Martin Jacobs: | Lawford |
| Malcolm Jamieson: | Colonel de L'Eclin |
| Anthony Hyde: | Man in Black |
| Jack McKenzie: | Mr. Parker |
| Kerry Shale: | James Rothschild |
| Karen Rungay: | Louisa |
Sharpe's Eagle
Spain 1809
The newly promoted Captain Sharpe will be stripped of his rank unless he can save the honour of the regiment by capturing a French Imperial standard: an eagle. Fast moving, hard-hitting action adventure filmed on location in the Crimea, Portugal and England brings to the screen all the danger, romance and sheer spectacle of one of the bloodiest periods in English warfare.

Sir Arthur Wellesley takes the army into Spain. In camp, Sharpe and Harper watch the arrival of a new regiment - the South Essex. At its head is Col. Sir Henry Simmerson, accompanied by Simmerson's nephew Lt. Gibbons, Lt. Berry, Maj. Lennox (a veteran of the Indian Campaign), Capt. Leroy (a loyalist American) and Countess Josefina who is under the 'protection' of Lt. Gibbons. The South Essex is a battalion run by incompetents and filled with soldiers that have never been in battle.

Wellesley is unimpressed by Simmerson and his regiment, but, as Simmerson is a political animal, he arranges a 'small victory' for him - blowing the bridge at Valdelacasa. Wellesley orders Sgt Richard Sharpe to see that the mission is a success in exchange for a promotion to captain. Simmerson is infuriated to learn that Sharpe is not a gentleman and was raised from the ranks by Wellesley. In revenge, he orders Sharpe to train his men to fire three rounds a minute by nightfall, or they will be flogged as punishment for failure. Sharpe and Harper succeed infuriating Simmerson even more.

The following day, Simmerson orders Capt. Lennox to lead the South Essex across the bridge in an attempt to chase away a small French patrol. But the French cavalry appears as the new soldiers cross the bridge. They panic and are cut to pieces by the cavalry. Sharpe and the Chosen Men run to help the stricken unit. In his panic, Simmerson orders the bridge to be blown, leaving Sharpe and his men stranded. The French make off with the Colours, watched by Sharpe and the dying Lennox.

Wellesley breaks up what is left of the South Essex and gives command of the Light Company to the newly promoted Captain Sharpe. Simmerson is outraged and threatens to use his influence in London to have Sharpe stripped of his rank. The only thing Sharpe can do to retain his rank is perform an act of outstanding valour. Sharpe vows to save the honour of the regiment by capturing a French Imperial standard: an eagle.
CAST
Sean Bean:
Richard Sharpe
Assumpta Serna:
Teresa
Brian Cox:
Hogan
David Troughton:
Wellesley (Wellington)
Martin Jacobs:
Lawford
Katia Caballero:
Josefina
Daragh O'Malley:
Harper
Michael Mears:
Cooper
John Tams:
Hagman
Jason Salkey:
Harris

| | |
| --- | --- |
| Paul Trussell: | Tongue |
| Lyndon Davies: | Perkins |
| Michael Cochrane: | Sir Henry Simmerson |
| Gavin O'Herlihy: | Leroy |
| David Ashton: | Lennox |
| Neil Dudgeon: | Gibbons |
| Daniel Craig: | Berry |
| Nolan Hemmings: | Denny |
| Paul Bigley: | Dobbs |
Sharpe's Company
Spain 1812
The Duke of Wellington plans to lay siege to Badajoz. A murderous figure from Sharpe's past uses a beautiful woman revenge himself on Sharpe, now the father of her child. Sharpe has reason to be happy, he holds his daughter for the first time and is given command of the Light Company again, together with his captaincy. But will his happiness be short lived?

After the siege of Cuidad Rodrigo, the Dule of Wellington plans to lay siege to Badajoz. Meanwhile, Teresa tells Sharpe he is now the father of their daughter, Antonia, who is in their target city of Badajoz.

A new draft arrives from England with Col. Windham and Capt. Rymer. In charge of the men is Sgt. Hakeswill, a murderous figure from Sharpe's past in India. Hakeswill becomes obsessed with Teresa and plans to use her to revenge himself on Sharpe.

Sharpe is told that the regiment no longer has a place for him as a captain, but he chooses to stay on as lieutenant and is made Quartermaster. In a bid for promotion he requests permission to lead the Forlorn Hope when the breach at Badajoz is stormed, but he is refused.

Sharpe is given the task of guiding Capt. Rymer and the Forlorn Hope to the breach. He watches as they are repulsed leaving many, including Rymer, dead. Against his previous orders, Sharpe takes his Chosen Men to the breach and leads the storming. They are successful.

Sharpe frantically looks for Teresa, but Hakeswill gets there first, intent on raping her. After a fight, Hakeswill is injured and flees. Sharpe has reason to be happy, he holds his daughter for the first time and is given command of the Light Company again, together with his captaincy. Burt will his happiness be short lived?
CAST
Sean Bean:
Richard Sharpe
Assumpta Serna:
Teresa
Pete Postlethwaite:
Hakeswill
Michael Byrne:
Nairn
Hugh Fraser:
Wellington
Daragh O'Malley:
Harper
Michael Mears:
Cooper
John Tams:
Hagman
Jason Salkey:
Harris
Lyndon Davies:
Perkins
Clive Francis:
Windham

| | |
| --- | --- |
| Nicholas Jones: | Fletcher |
| Scott Cleverdon: | Price |
| Robert Morgan: | Collett |
| Louise Germaine: | Sally Clayton |
| Soo Drouet: | Mrs. Grimes |
| William Mannering: | Matthews |
| Marc Warren: | Rymer |
| Peter Gunn: | Clayton |
| Peter Birrell: | Don Moreno |
| Tat Whalley: | Hope |
| Jerome Pradon: | Reynier |
Sharpe's Enemy
Portugal 1813
Action and romance follow Sharpe as his chosen men risk their lives on dangerous and heroic missions. Sharpe has to do battle with a gang of deserters led by an evil renegade, who uses hostages - including Sharpe's old flame - as innocent pawns in his wicked game to win a ransom. This is only the beginning of the problems facing Sharpe. A far greater threat is on the horizon. One where failure would mean the end of the war for the Allied armies.

French, Portuguese and British deserters have banded together and taken over the village of Adrados. They are led by 'Marshal Pot au Feu' and Sharpe's old enemy, Obadiah Hakeswill, and they have two English women as hostages. Sarah Dubreton, wife of a French officer and Lady Isabella Farthingdale, the Portuguese wife of Sir Augustus Farthingdale.

In Wellington's camp, Sharpe is putting Lt. Gilliland and his rocketeers through their paces. Sir Augustus Farthingdale arrives with the ransom for his wife but is appalled at the idea of Sharpe, raised from the ranks, taking it. Teresa escorts Sharpe and Harper part of the way to Adrados. When they get to the village, they spot two Frenchmen and assume they are deserters. They soon realise it is Sarah Dubreton's husband and his sergeant on the same rescue mission.

The four men finally get to see the hostages, but Hakeswill has increased the ransom, giving Sharpe five days to come up with the extra money or the women will be raped. Dubreton tells Sharpe that Maj. Ducos, Napoleons spy master, has forbidden any extra payment. Sharpe decides to mount a rescue.

Hakeswill escapes to wreak his revenge on Teresa. He is captured by Dubreton and handed over to the British to face justice. Nairn receives information that the French intend to invade Portugal from Adrados and decides to thwart the plan. Sharpe is promoted to Major and given command of the 60th Rifles in order to secure the safety of the women and prevent the French from taking the town.
CAST
Sean Bean:
Richard Sharpe
Assumpta Serna:
Teresa
Elizabeth Hurley:
Lady Farthingdale
Jeremy Child:
Sir Augustus
Pete Postlethwaite:
Hakeswill
Michael Byrne:
Major Nairn
Hugh Fraser:
Wellington
Daragh O'Malley:
Harper
Michael Mears:
Cooper
John Tams:
Hagman

| | |
| --- | --- |
| Jason Salkey: | Harris |
| Lyndon Davies: | Perkins |
| Helena Michell: | Sarah Dubreton |
| Tony Haygarth: | Pot Au Feu |
| Philip Whitchurch: | Frederickson |
| Feodor Atkin: | Ducos |
| Francois Guetary: | Dubreton |
| Nicholas Rowe: | Gilliand |
| Vincent Grass: | Chaumier |
| Diana Perez: | Ramona |
| Morgan Jones: | Kelly |
| Iain Glass: | Rossner |
Sharpe's Honour
Spain 1813
Sharpe is unwittingly caught up in a French plot; he is convicted of the murder of a Spanish nobleman and sentenced to death. This time he will need more than just his legendary courage to survive. In a desperate attempt to clear his name, Sharpe is forced to venture deep into enemy territory to capture La Marquesa, a beautiful French spy, who alone can prove his innocence.

French, Portuguese and British deserters have banded together and taken over the village of Adrados. They are led by 'Marshal Pot au Feu' and Sharpe's old enemy, Obadiah Hakeswill, and they have two English women as hostages. Sarah Dubreton, wife of a French officer and Lady Isabella Farthingdale, the Portuguese wife of Sir Augustus Farthingdale.

In Wellington's camp, Sharpe is putting Lt. Gilliland and his rocketeers through their paces. Sir Augustus Farthingdale arrives with the ransom for his wife but is appalled at the idea of Sharpe, raised from the ranks, taking it. Teresa escorts Sharpe and Harper part of the way to Adrados. When they get to the village, they spot two Frenchmen and assume they are deserters. They soon realise it is Sarah Dubreton's husband and his sergeant on the same rescue mission.

The four men finally get to see the hostages, but Hakeswill has increased the ransom, giving Sharpe five days to come up with the extra money or the women will be raped. Dubreton tells Sharpe that Maj. Ducos, Napoleons spy master, has forbidden any extra payment. Sharpe decides to mount a rescue.

Hakeswill escapes to wreak his revenge on Teresa. He is captured by Dubreton and handed over to the British to face justice. Nairn receives information that the French intend to invade Portugal from Adrados and decides to thwart the plan. Sharpe is promoted to Major and given command of the 60th Rifles in order to secure the safety of the women and prevent the French from taking the town.
CAST
Sean Bean:
Richard Sharpe
Alice Krige:
La Marquesa
Michael Byrne:
Nairn
Hugh Fraser:
Wellington
Daragh O'Malley:
Harper
Michael Mears:
Cooper
John Tams:
Hagman
Jason Salkey:
Harris
Lyndon Davies:
Perkins
Feodor Atkine:
Ducos

| | |
| --- | --- |
| Nickolas Grace: | Father Hacha |
| Ron Cook: | Napoleon |
| Matthew Scurfield: | El Matarife |
| Diana Perez: | Ramona |
| Ricardo Velez: | Mendora |
| Jay Benedict: | Verigny |
| James Saxon: | Vaughan |
| Anna Savva: | Mother Superior |
| Mark Burns: | Pakenham |
| Christopher Owen: | Rev. Whistler |
| Ricardo Montez: | Father Sanchez |
| Benjamin Soames: | Trumper Jones |
Sharpe's Gold
Spain Summer 1813
The dashing and heroic Major Richard Sharpe pits his wits against El Casco, a terrifying partisan leader who has a chilling way of dealing with his enemies. Sharpe's mission, to trade guns for deserters, is imperilled by the beautiful and desirable Ellie, who follows him into the hills where there is rumoured to be hidden Aztec gold.

After a campaign battle, Sharpe discovers that a group of soldiers led by Sgt. Rodd are deserting. The provosts arrive too late to catch them, but arrest one of Sharpe's men for stealing a chicken.

A relative of Wellington's arrives in camp, Mrs Bess Nugent and her daughter, Ellie, trying to find Mr Nugent who has become lost in Spain while searching for a hoard of Aztec gold, supposed to be buried in the hills. Wellington refuses to mount a search and orders the women home.

Wellington is short of men, and agrees to exchange 52 British deserters, captured by the Spanish partisan El Casco, for Baker rifles. Sharpe is ordered to manage the exchange. On the journey, Sharpe and his men realise they are being followed. It is Bess and Ellie Nugent. The exchange takes place. One of the deserters is smoking Nugent's pipe. Unable to persuade Sharpe to continue the search, Bess and Ellie go alone. Sharpe cannot stop them, so he sends the provosts back with the deserters and he and his men go after Bess and Ellie.

Bess and Ellie are ambushed by guerrillas, Bess is killed and Ellie is carried off into the mountains. Whilst in captivity, she sees her father who is also a prisoner, but he has lost his mind. Sharpe is left with no choice but to mount a rescue in the caves where Ellie and her father are held.
CAST
Sharpe:
Sean Bean
Harper
Daragh O'Malley
Wellington:
Hugh Fraser
Mungo Munro:
Hugh Ross
Bess Nugent:
Rosaleen Linehan
Ellie Nugent:
Jayne Ashbourne
Will Nugent:
Peter Eyre
El Casco:
Abel Folk
Provost Marshall:
Philip McGough
Ayres:
Ian Shaw

| | |
| --- | --- |
| Hagman: | John Tams |
| Cooper: | Michael Mears |
| Harris: | Jason Salkey |
| Perkins: | Lyndon Davies |
| Barbier | Julian Sims |
| Ramona: | Diana Perez |
| Skillicorn | Philip Dowd |
| Rodd: | Peter-Hugo Daly |
| Tripper: | Nicholas McGaughey |
| Donkin: | Jake Abraham |
| Bewley: | Jonathan McGuinness |
Sharpe's Battle
Spain September 1813
Sharpe is given the task of preparing the glamorous Royal Irish Company, led by Lord Kiely, for their first encounter with the enemy. Previously only used for ceremonial duties, the Company finds Sharpe a hard taskmaster. Trouble arises amongst the Irish soldiers when false reports are circulated of a massacre in Ireland perpetrated by the English. When Lord Kiely begins a passionate affair with Juanita, the Spanish partisan leader, the distressed Lady Kiely looks to Sharpe for comfort. Then Sharpe is led into a French trap and he and the Royal Irish Company find themselves up against the vicious Brigadier Loup and seemingly impossible odds.

Lost in the Spanish hills, Sharpe's men come across the attacked remains of an English wagon train and then the sacked village of Casa Antiga. They find out that both were attacked by the Wolf Brigade, named after their commander, Brig. Gen. Guy Loup. Meanwhile, Wellington has been given the Royal Irish Company, led by their colonel, Lord Kiely, the palace guard of King Ferdinand VII of Spain. They are raw troops and of little use, so Wellington posts them next to the French lines and tasks Sharpe with knocking them into shape. He believes they will desert, and the sooner the better.

Sharpe starts to teach them how to fight, and sure enough, the desertion starts. Intent on retrieving some ammunition captured by Loup from the wagon train, Sharpe and Kiely go to the town where Loup is based. They are attacked, losing many men. They also find the bodies of their deserters that have been butchered by Loup.

Lord Kiely invites Sharpe to dinner. Also at the table are Kiely's wife and a Spanish partisan, Dona Juanita, who is Kiely's lover. After the dinner, Lady Kiely begs Sharpe to persuade her husband to end the affair.

Loup attacks at night and a fearsome battle ensues. The Irish Company fights him off, and Sharpe wants to follow through with a counter-attack. Lady Kiely reveals to her husband that she is pregnant and he sends her home to safety. Instead, she is captured by Loup. Sharpe attacks Loup's town, but they ready for him. He has been betrayed.
CAST
Sharpe:
Sean Bean
Harper:
Daragh O'Malley
Wellington:
Hugh Fraser
Mungo Munro:
Hugh Ross
Lord Kiely:
Jason Durr
Lady Kiely:
Allie Byrne
Runciman:
Ian McNeice
Loup:
Oliver Cotton
Juanita:
Siri Neal
Hagman:
John Tams

| | |
| --- | --- |
| Harris: | Jason Salkey |
| Perkins: | Lyndon Davies |
| O'Rourke: | Liam Carney |
| Donaju: | Phelim Drew |
| Ramona: | Diana Perez |
| Jenkins: | Robert Hands |
| Miranda: | Maria Petrucci |
Sharpe's Sword
Franco-Spanish Frontier 1813
Sean Bean returns as the courageous Major Richard Sharpe, his latest mission to protect the identity of the master spy, El Mirador. Sharpe captures Colonel Leroux who has been sent by Napoleon to assassinate El Mirador but Leroux escapes. In an ensuing battle, Sharpe's sword is destroyed and he is left for dead. He is lovingly nursed back to health by a beautiful young girl who has been rendered mute after witnessing the slaughter of her companions. Armed with a new sword forged by the faithful Sergeant Harper, Sharpe continues his mission to protect the life of El Mirador and seek retribution.

A carriage travelling through the countryside is ambushed by the French. Only a young nun escapes with her life, struck dumb with shock. Later, the same French company is attacked by the British. The French colonel shoots his captain and disguises himself in the captain's coat, claiming he is Capt. Dumas. Sharpe is suspicious, the man claims to trade in horses, but carries the best sword ever made - a Kliegenthal. He is also carrying papers covered in figures, which he says are bills, but could just as easily be codes.

Col. Berkeley of the South Essex arrives and accepts Dumas' parole through an interpreter, Capt. Lord Jack Spears. The young nun gives herself up to Sharpe's protection. Unable to speak, she is given to Ramona to care for and given the name 'Lass'. Sharpe is told that a French colonel, Leroux, had been sent to capture a British agent, known only as El Mirador, whose identity is unknown. Sharpe is convinced that the captured captain is Col. Leroux, but he remains on parole instead of under guard. Sharpe is also convinced that the scraps of paper are a code and that the key lies somewhere in Voltaire's Candide, a copy of which was found when Dumas was captured.

At Villafranca, Sharpe is re-united with his old adversary Sir Henry Simmerson. When Simmerson states the nearby French fort is no threat, a cannon is fired and Dumas escapes, proving he is Leroux after all. In the town, Sharpe meets Father Curtis who runs the hospital.

When the fort is stormed, Sharpe is terribly wounded, Lass and Ramona refuse to give up and nurse him towards recovery. Meanwhile, Harris works hard in the library cracking the Voltaire code and Harper forges a new sword for Sharpe. If Sharpe recovers, there will be a spy to be found and a French agent to dispatch.
CAST
Sharpe:
Sean Bean
Harper:
Daragh O'Malley
Lass:
Emily Mortimer
Leroux:
Patrick Fierry
Spears:
James Purefoy
Berkeley:
Stephen Moore
Mungo Munro:
Hugh Ross
Sir Henry Simmerson:
Michael Cochrane

| | |
| --- | --- |
| Father Curtis: | John Kavanagh |
| Don Felipe: | Vernon Dobtcheff |
| Hagman: | John Tams |
| Harris: | Jason Salkey |
| Ramona: | Diana Perez |
| Connelly: | Pat Laffan |
| Father O'Sullivan: | Walter McDonagle |
| Ensign McDonald: | Matthew Pannell |
| Pipe Major: | Bob White |
Sharpe's Regiment
England June 1813
Major Richard Sharpe's men are in mortal danger - not from the French, but from the bureaucrats of Whitehall. Unless reinforcements can be brought from England, the depleted South Essex will be disbanded, their troops scattered throughout the army. Determined not to see his regiment die, Sharpe returns to England and uncovers a nest of well-bred, high-ranking traitors, any one of whom could utterly destroy his career with a word, or a stroke of the pen. Sharpe is forced into the most desperate gamble of his life - and not even the influence of the Price Regent may be enough to save him.

The South Essex is a depleted Regiment, and Wellington's chief of staff, Maj. Ross, receives a letter from the Secretary of State at War, Lord Fenner, informing him that the second battalion has been reduced to a holding battalion and the regiment will be disbanded. Sharpe and Harper are sent back to England to find replacements and save the regiment.

When they arrive at Horse Guards, Sharpe hears there are 700 men at Chelmsford. But when he gets there, he finds less than a dozen men, all too young or too disabled. The Officer of the Day, Capt. Carline, tells him nothing, but a veteran of Talavera, Sgt. Ted Carew, is able to prove the battalion is still recruiting. Except the new recruits haven't been seen at Chelmsford.

Sharpe's investigation is cut short by a summons to attend the Prince Regent at court. There, Sharpe retells how he won the French eagle. At dinner in the evening, Sharpe has a chance to tell 'Prinny' of the missing battalion. When the Prince Regent demands an explanation, Lord Fenner stalls him, saying they only march 'on paper'. As Sharpe leaves, he is approached by Lady Anne Carmoynes, Fenner's mistress. Later in the evening, she tells him not to trust Fenner.

After visiting some of his old haunts, Harper finds Sharpe and warns him he is being followed. When set upon, Sharpe and Harper kill the culprits and swap identities with them, then they go and enlist in the South Essex. They end up at a training camp run by Col. Girdwood, where they discover that men are being auctioned to other regiments. He also meets Sir Henry Simmerson's Niece, Jane Gibbons, who confirms his suspicions. Sharpe has to prove the conspiracy in order to get his second battalion back to Spain in readiness for the invasion of France.
CAST
Sharpe:
Sean Bean
Harper:
Daragh O'Malley
Jane Gibbons:
Abigail Cruttenden
Sir Henry Simmerson
Michael Cochrane
Fenner:
Nicholas Farrell
Lady Anne Camoynes:
Caroline Langrishe
Major General Ross:
James Laurenson
Colonel Girdwood:
Mark Lambert
Prince Regent:
Julian Fellowes
Horatio Haverkamp:
Norman Rossington
Lord Rossendale:
Alexander Armstrong
Charlie Weller:
Steve Chambers
Marriott:
Henry Woolley
Sgt. Lynch:
Robert Patterson
Maggie Joyce:
Julie T. Wallace
Hon William Lawford:
Benedict Taylor
Cpt. Smith:
Tristram Wymark
Cpt. Carline:
Adam James
Sgt. Ted Carew:
Peter Jonfield
Sir Barstan Maxwell:
John Savident
Sharpe's Siege
France Winter 1813
Sharpe marries his sweetheart, Jane Gibbons, but has to leave her immediately to go on a dangerous mission in the Pyrenees, to capture a French fort. While Sharpe is battling with the French, his wife contracts a deadly fever which has swept through the British camp and endangers her life. Sharpe encounters his old enemy, Ducos and is compelled to stay at the fort and fight for his country, knowing that even if he survives he may never see his beloved bride again.

A pro-Bourbon Noble, the Compte de Maquerre is in Wellington's camp, arguing that Bordeaux is ripe for rebellion, but Maj. Gen. Ross is dubious. He suggests using the Compte's castle, 60 miles behind enemy lines, as a base. Maquerre is reluctant, saying his mother and sister had turned it over to Napoleon, so it must be captured. Col. Horace Bampfylde is to lead the attack, with Sharpe in support.

There is sickness in the camp and Maj. Gen. Ross and Sharpe's new wife, Jane, succumb to it. The only cure is quinine which is in short supply. When they reach the castle, Col. Bampylde wants the glory, he sends Sharpe, Capt. Frederickson and the Rifles scouting, so he can take the castle alone. He fails in his mission, but gains heavy casualties.

Sharpe sees what is happening from afar. He infiltrates the camp and forces the French to surrender. Bampfylde returns to the castle and sends Sharpe and his men away. Maquerre returns with the mayor. They tell Bampfylde that the region has changed sides, Gen. Calvet is on his way and Sharpe is dead. Bampfylde is persuaded that he has accomplished his mission and returns to tell Wellington.

Sharpe and his men ambush a French convoy and capture a small supply of quinine. He also finds out that the region is far from ready to rise against Napoleon, and concludes that Maquerre is a double agent. When he returns to the castle, he finds it deserted except for the wounded, along with Maquerre's sister and sick mother. Gen. Calvet is heading towards the castle, and Sharpe and his men are desperately short of ammunition.
CAST
Sharpe:
Sean Bean
Harper:
Daragh O'Malley
Wellington:
Hugh Fraser
Jane Gibbons:
Abigail Cruttenden
Ross:
James Laurenson
Ducos:
Feodor Atkine
Maquerre:
Christian Brendel
Bampfylde:
Christopher Villiers
Catherine:
Amira Casar
Frederickson:
Philip Whitchurch
CAST
CPT Palmer:
James Ryland
General Calvet:
Oliver Pierre
Robinson:
Dan Cunningham
COL Lassan:
Sylvester Morand
Dr. Kenefick:
John Tordoff
Ducos:
Feodor Atkine
Reilly:
J.D. Kelleher
Hagman:
John Tams
Harris:
Jason Salkey
Sharpe's Mission
Pyrenes 1813
Wellington orders Sharpe to join the dashing colonel Brand on a hazardous journey behind French enemy lines with the aim of blowing up an ammunition store. Sharpe's wife Jane becomes disillusioned with Sharpe's frequent absences. Left behind in the camp, she warms to the attentions of another admirer. Meanwhile, Sharpe is out in the mountains and is dangerously outnumbered, with with the French ranks closing in. He must risk his own life, however, to confront a far deadlier enemy on his own side.

Col. Cresson and Gen. Calvet plan to capture Wellington's intelligence chief, Maj. Gen. Ross. Gypsies are camping with the British, their women are causing a stir among the soldiers and Sharpe has settled into married life. Jane, however, is bored and looking to the future. She wonders how Sharpe will take to the social life back in England. Col. Brand also arrives in the camp, he operates behind enemy lines and plans to destroy Calvet's powder supply. Sharpe is to act as his back up. They also need the services of explosives expert, Maj. Septimus Pyecroft. A war correspondant and poet, called Shelligton, has also arrived and becomes enamoured with Jane.

When Ross and Sharpe meet Pyecroft, he has a gypsy girl with him who was the only survivor from an attack on her family. In the camp, she recognises her family's horses among those belonging to Maj. Brand's men. Another gypsy girl, sets herself at Harris, but when he goes to her tent in the evening, he discovers her and her family dead. When he reports the murder, he finds himself chief suspect and is confined to camp. Sharpe asks him to watch over Jane while he is away.

Shellington accompanies Sharpe, but tires of war and is escorted back to camp. The murderers are uncovered and rounded up, and Sharpe also discovers there is a French spy in the camp.
CAST
Sharpe:
Sean Bean
Harper:
Daragh O'Malley
Wellington:
Hugh Fraser
Jane Gibbons :
Abigail Cruttenden
Ross:
James Laurenson
Ducos:
Feodor Atkine
Brand:
Mark Strong
Pope:
Andrew Schofield
Pyecroft:
Nigel Betts
Shellington:
Warren Saire
CAST
CPT Crake:
Christian Rodska
General Calvet:
Oliver Pierre
Zara:
Berrin Politi
Conchita:
Aysun Metiner
Ramona Harper:
Diana Perez
COL Cresson:
Peter LeCampion
Provost:
Michael Mallinson
Hagman:
John Tams
Harris:
Jason Salkey
Sharpe's Revenge
France April 1814
The Peninsula war is finally over for Britain and its allies, but the action does not end here for Sharpe. He is set up once again by his long-time enemy, the French spy Ducos, and finds himself accused of stealing Napoleon's priceless treasures. Having been abandoned by his beautiful wife Jane, who returns to England, and persecuted by both the British and French, Sharpe boldly goes in search of both truth and revenge, embarking on a perilous journey across post-war France with the help of his loyal friends Frederickson and Harper.

In the French camp, Ducos watches as Napoleon's fortune is loaded on a cart. If Toulouse falls, the treasure will be removed before the British, or the Bourbons, can steal it. Sharpe writes a note giving Jane power of attorney over his money. She makes him promise this will be his last battle and that he will then return to England with her.

On the battlefield, Calvet realises he is losing, as the British gain ground, and Ducos is ordered away with Napoleon's treasure. In the British camp, the officers celebrate their success with a dinner at which one of them, Col. Wigram, insults Sharpe. A duel is arranged with Capt. Frederickson acting as Sharpe's second. Ducos tests the loyalty of the men escorting the treasure by asking if they would consider stealing it. One officer, Maillot, declines and Ducos orders him back to his home in Normandy. In the British camp, Jane's friend, Molly Spindacre, tells Jane that Sharpe has challenged her 'protector', Col. Wigram, to a duel and broken his word to Jane. After finding out that Jane has power over Sharpe's money, she persuades Jane to return to punish Sharpe. Once there, they obtain all the money and start spending it.

When it is discovered that Napoleon's treasure has been stolen, the French suspect Sharpe and he is arrested in his quarters. During his court martial, it is requested that Maillot give evidence. Ducos finds this out and has to prevent Maillot from accusing him, so he arranges his murder and has Sharpe set up. Then he sets sail to safety in Naples. In London, Jane is informed of Sharpe's arrest by Lord John Rossendale. She faints into his arms, and he falls for her 'charms'.

Sharpe escapes from custody and makes for Normandy to find Maillot. Before he can reach Normandy, Maillot is killed and Sharpe is the suspect, getting shot by Maillot's sister, Lucille. When Frederickson, who accompanied Sharpe, explains what has happened, Lucille helps to nurse Sharpe back to health.

In London, Jane has fallen for Rossendale and they are lovers. Harper sees them together and returns to France. Frederickson tries to track down Ducos and discovers Gen. Calvet on the same mission. They believe their man has gone to Naples, and once they have collected Sharpe and Harper, they agree to join forces to recover the treasure.
CAST
Sharpe:
Sean Bean
Harper:
Daragh O'Malley
Jane Sharpe:
Abigail Cruttenden
Lucille:
Cecile Paoli
Fredeickson:
Philip Whitchurch
Calvet:
John Benfield
Ducos:
Feodor Atkine
Rossendale:
Alexis Denisof
Colonel Maillot:
Stephane Cornicard

| | |
| --- | --- |
| Sgt. Challon: | Phil Smeeton |
| Ross: | James Laurenson |
| Wigram: | Tom Hodgkins |
| Lady Molly Spindacre: | Connie Hyde |
| Hopkinson: | Milton Johns |
| Roland: | Paul Brooke |
| Salmon: | Michael Fitzgerald |
| Juliot: | Leon Lissek |
| Gaston: | Ercument Balakoglu |
Sharpe's Justice
South Yorkshire Summer 1814
Sharpe returns to England, with his reputation fully restored. He is soon ordered to the North of England to take command of a local militia force in his home town as it is troubled with unrest and machine-breakers. Sharpe finds that he is torn between two sides - that of the corrupt gentry and that of his own people, the rough, tough and spirited masses who are kept down by their superiors. He finds himself faced with one of the hardest decisions of his life.

The war is over, Napoleon is in exile on Elba, and Sharpe returns to England. He accepts a posting to Scarsdale, Yorkshire, the town where he grew up, to head the private militia raised by Sir Willoughby Parfitt, a self-made man. He is to protect Parfitt's mills from a 'rebellious' population. At the centre of the trouble is a man called Matt Truman, who Sharpe grew up with.

In London, Jane is finding life as a mistress difficult. She is shunned by society, including Lady Anne Carmoynes (once a mistress herself). In Yorkshire, Sharpe and Harper are met by the local yeomanry and their commander, Capt. Wickham. On their way to Parfitt's home, Sharpe and Harper realise they are being followed. Sharpe shoots one pursuer and corners the other whom he recognises as Matt Truman.

Parfitt blames Truman for the local unrest. At dinner, that evening, another mill owner, Sir Percy Stanwyck, is present. Stanwyck is soon to take delivery of a steam engine, something that will give Parfitt competition. Stanwyck has heard of Sharpe from his son, who died shortly after Talavera. Also in Scarsdale is Dan Hagman, out of the army and looking for work. He joins Truman. Rossendale and Jane are also there to view a property that Rossendale has inherited.

Part of Sharpe's job is to break up illegal meetings. When they are informed of one, Sharpe tells Wickham to arrest Truman without loss of life. Wickham disobeys, Truman escapes, but there is a massacre. Sharpe and Harper are appalled, even Hagman turns away from them. Later Sharpe believes there is a plot to put Stanwyck out of business and he and Harper thwart it. After an unpleasant meeting with Jane, Harper returns to Ireland but where can Sharpe find justice?
CAST
Sharpe:
Sean Bean
Harper:
Daragh O'Malley
Jane Sharpe:
Abigail Cruttenden
Lady Anne Camoynes:
Caroline Langrishe
Truman:
Philip Glenister
Hagman:
John Tams
Wickham:
Douglas Henshall
Rossendale:
Alexis Denisof
Parfitt:
Tony Haygarth
Sally Bunting:
Karen Meagher

| | |
| --- | --- |
| Stanwyck: | Philip Anthony |
| Saunders: | Philip Martin Brown |
| Fosdyke: | Sean O'Kane |
| Whitbread: | Henry Moxon |
| Mrs. Trent: | Rita May |
| Arnold: | Richard Bremmer |
| Horse Guards Clerk: | Tony Aitken |
| Sam West: | Nick Conway |
Sharpe's Waterloo
Brussels June 18
Sharpe seems to have settled down for life on a tranquil French farm with his new partner Lucille when the sudden news of Napoleon's return from exile compels him to go back to the army to fight in the great Battle of Waterloo. He joins the staff of Wellington's ally, the Prince of Orange. Once again reunited with the Chosen Men, Sharpe abandons his inept commander to organise the defence of the British key positions on the farm of La Haie Sainte and plays a courageous and important role in securing one of Britain's most famous victories.

When Napoleon escapes from Elba, Sharpe is settled in Normandy with Lucille, but his sense of duty recalls him to the army, and he is promoted to Lt. Col. in the 5th (Belgian) Light Dragoons, under the command of William, Prince of Orange. Sharpe and Lucille head for Brussels where the Duke of Wellington is based, with Lord John Rossendale and Jane Sharpe nearby in the city.

Out on reconnaisance, Sharpe sees a mass of French soldiers. He and the Prince's chief of staff, Rebecque, try to discover if it is a feint prior to Napoleon attacking Mons. Sharpe believes the French are heading to Quatre Bras, to split the Allied and Prussian forces. With French forces gathering, Sharpe knows he must tell Wellington and interrupts him at the Duchess of Richmond's ball. After delivering his message, Sharpe heads for the front, rejoined by Sgt. Harper (retired) and riflemen Hagman and Harris.

After the battle at Quatre Bras, Sharpe and Harper are given their post, the farm at La Haie Sainte. Woefully undefended, the men there repulse attacks from the French in bloody combat. The Prince of Orange has made mistakes, ending in the senseless loss of life of good soldiers. Eventually, Sharpe has had enough of this.

Not only must Sharpe deal with incompetent orders from the Prince of Orange, that lead to slaughter, he confronts his wife's lover, Lord Rossendale, in the midst of battle. The film climaxes as Wellington's small army 'holds the line' against Napoleon's veteran Imperial Guard.
CAST
Sharpe:
Sean Bean
Harper:
Daragh O'Malley
Jane Sharpe:
Abigail Cruttenden
Rossendale:
Alexis Denisof
Lucille:
Cecile Paoli
Wellington:
Hugh Fraser
Prince William of Orange:
Paul Bettany
Rebeque:
Oliver Tobias
Uxbridge:
Neil Dickson
Harry Price:
Nicholas Irons

| | |
| --- | --- |
| Macduff: | Martin Cochrane |
| Harris: | Jason Salkey |
| Hagman: | John Tams |
| Doggett: | Martin Glyn Murray |
| Witherspoon: | Owen Brenman |
| Lt. Col. Ford: | Shaughan Seymour |
| Duchess of Richmond: | Jane Merrow |
| Paulette: | Chloe Newsome |
| Dutch Captain: | Janek Lesniak |
Sharpe's Challenge
Rajahstan, India, 1818
Two years after Wellington crushes Napoleon at Waterloo, dispatches from India tell of a local Maharaja, Khande Rao, who is threatening British interests there. Wellington sends Sharpe to investigate what turns out to be his most dangerous mission to date.

The last scout sent - whom we discover is Sharpe's best friend, Sgt Harper - has gone missing. His latest report suggests that the real power behind the Maharaja is one Colonel Dodd (a malcontent East India Company officer 'turned rogue') and that the Maharaja has gathered into his impregnable fort a contingent of refugees from Napoleon's army - adventurers looking to make their fortunes in India. It's the French that trouble Wellington the most: their experience, tactics and discipline could help fashion the Indians into something more than 'just a perennial bloody nuisance'.

As usual, Wellington has not painted the full picture. For once in India, Sharpe discovers the situation is already far graver than he was led to believe; and things only get worse when the daughter of General Burroughs, the commander of His Britannic Majesty's forces in the region, is kidnapped and held in the Maharajah's fort by his villainous henchman, Colonel Dodd (Toby Stephens) and the scheming yet beautiful Madhuvanthi (Padma Lakshmi). The British were planning to storm the Maharajah's fort by blowing up one of the outer walls-but the Maharajah now vows to execute the General's daughter if any such attack is carried out. Worse still, it turns out that General Burroughs has gone down with a fever and that Sharpe's gutless nemesis, General Simmerson, is now in overall charge of the army.

Sharpe, now reunited with Harper (Daragh O'Malley), devises a plan. The two friends will disguise themselves as deserters and become part of the Maharajah's motley crew. Once inside the fort they will rescue the General's daughter and get word to him of her safety - together with details of which side of the fort they should attack. General Simmerson reluctantly agrees. However once inside the fort things don't quite go as Sharpe has planned...
CAST
Sharpe:
Sean Bean
Harper:
Daragh O'Malley
Wellington:
Hugh Fraser
Dodd:
Toby Stephens
Madhuvanthi:
Padma Lakshmi
Gudin:
Aurélien Recoing
Celia Burroughs:
Lucy Brown
Simmerson:
Michael Cochrane
Mohan Singh:
Alyy Khan
Dodd:
Toby Stephens

| | |
| --- | --- |
| Bickerstaff: | Peter Hugo-Daly |
| Bonnet: | Thierry Hancisse |
| Khande Rao: | Karan Panthaky |
| Lalima: | Shruti Vyas |
| General Burroughs: | Peter Symonds |
| Colonel McRae: | Graham McTavish |
| Stokes: | Gary Dunnington |
Sharpe's Peril
India, 1818
Sharpe is still in India, taking up where Sharpe's Challenge left off. Sharpe and Harper are on their way to Calcutta, from where they are to sail to England when they are summoned by the British Governor, Viscount Sedgefield. Sharpe is unwittingly tricked into escorting the spirted and willful Marie Angelique Bonnet to meet her betrothed at a company outpost. Along the way they come upon an East India Company baggage train, also making its way to Calcutta. The party - which includes among its number a heavily pregnant woman and a teenage British ensign in charge of a prisoner escort detail - travels warily through enemy territory. Fearing Chitu, the legendary bandit leader who controls the area keeps them on the lookout for a trouble. When a raid happens, the Company officers in charge prove inadequate to its defence and Sharpe has to take over and lead the party 300 miles through enemy territory. He has to train up the ill-assorted group into proper soldiers and finds himself defending helpless villagers against the corrupt and ruthless Colonel Dragomirov, the local Company commander in the area.


CAST
Sharpe:
Sean Bean
Harper:
Daragh O'Malley
Barabbas Hakeswill:
Amit Behl
Marie Angelique:
Beatrice Rosen
Lance Naik Singh:
Raza Jaffrey
Wormwood:
Steve Speirs
Celia Burroughs:
Lucy Brown
Simmerson:
Michael Cochrane
Dragomirov:
Velibor Topic
Beauclare:
Luke Ward Wilkinson

| | |
| --- | --- |
| Maharani Padmini: | Nandana Sen |
| Maj. Tredinnick: | David Robb |
| Mrs. Tredinnick: | Caroline Carver |
| Maj. Joubert: | Pascal Langdale |
| Deever: | Chucky Venice |
| Quilter: | Ryan Pope |
| Croop: | Jonathan Coyne |
| Subedar Pillai: | Rajesh Khattar |
| Chitu: | Ulhas Tayad |
| Sedgefield: | David Henry |
Sharpe The Legend
A collection of good bits narrated by Cooper, last seen nursing a shoulder wound in Sharpe's Gold.



---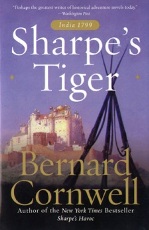 Sharpe's Tiger
The Siege of Seringaptam, Mysore India 1799

Sharpe's time as a young, bored and cocky Private in His Majesty's Army in India has Sharpe a member of the King's 33rd Foot, under the tyrannical foot of the evil Sergeant Obadiah Hakeswill. The story opens with Sharpe thinking of desertion, if Sergeant Hakeswill doesn't kill him first. Hakeswill is desperately trying to get Sharpe up on a charge, but failing to do so due to the interference of Sharpe's friend Tom Garrard and his supporters amongst the officers, Ensign Fiztgerald and Lieutenant Lawford. The fact that Lawford is always watching out for Sharpe causes Hakeswill to accuse Sharpe of being Lawford's "lily boy", and Sharpe hits him. Sharpe is then sentenced to a thousand lashes, but is spared after 202 because Lawford won't go on the secret mission he's been picked for without Sharpe. This is a sensible move on Lawford's part because the street-smart Sharpe manages to keep them alive as the mission lurches from one disaster to another as the lads are caught, tortured, freed, betrayed, captured, tortured again until Sharpe finally breaks out of the dungeons, kills his tiger, saves the British Army, kills the Tippoo and steals his ruby. The only reward he asked for before he even set out was, if he was successful, could he be a sergeant.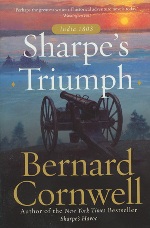 Sharpe's Triumph
Battle of Assaye, India 1803

In the four years since he earned his sergeant's stripes, young Richard Sharpe has led a relatively peaceful existence. Sharpe's reverie ends when he barely survives a murderous act of treason by a bitter English officer, who has joined the mercenary forces of the Mahratta confederation determined to drive the British from the continent. Sharpe is chaperoned by the elderly, religious and cantankerous Colonel McCandless around India in search of the traitor. Having survived the massacre at Chasalgaon, Sharpe is the only locally available person who can identify William Dodd. Sharpe rambles through his adventures with little knowledge of the plotting of the vengeful Sergeant Hakeswill as money and patronage protect him from anything Hakeswill or anyone else can throw at him. Sharpe soon finds himself in the enemy camp, tempted by an ememy offer to desert and be made up into an officer. Only when Sharpe buys McCandless a horse does the miserable auld bugger realises that there is more to the gutter-born rogue who certainly has a secret stash and might be able to make it as an officer in the British Army, though not as easily as Sharpe had imagined.

Through a process of elimination, Sharpe finds himself in the role of aide to Colonel Wellesley at the battle of Assaye. His vow to hunt down the turncoat still alive, Sharpe plunges headlong into the white-hot battle of Assaye alongside Sir Arthur Wellesley--the future Duke of Wellington--in the fiercest fight of his career. When Wellesley is unhorsed it is Sharpe, with a battlefield castoff sword who saves his life. Wellesley is impressed and, prompted by McCandless, makes Sharpe up to Ensign. Alas, Sharpe loses McCandless as a patron for moments later he is killed by Hakeswill, peeved that McCandless has spoiled his plot to get even with Sharpe.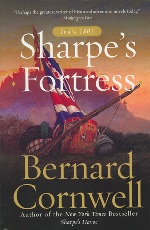 Sharpe's Fortress
Siege of Gawilghur, India 1803

Richard Sharpe, now an officer in Wellesley's army, faces a battle of a different kind-this time among his own ranks. Uncomfortable with his newfound authority and unwilling colleagues, Sharpe is relegated to the tedium of baggage duty. But when he catches wind of a treasonous scheme devised by none other than his oldest and worst enemy, Sergeant Obadiah Hakeswill, Sharpe has little choice but to take up arms, seek revenge, and regain his stolen treasure-the jewels of the Tippoo Sultan and he's not above executing a useless and treacherous officer to do it. Joining Wellesley's army as it prepares to lay siege to this fortress high above the Deccan Plain, Sharpe will risk his honor, reputation, and fortune on a battle that will test him as never before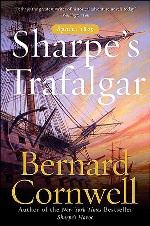 Sharpe's Trafalgar
Battle of Trafalgar, Atlantic Ocean, 1805

The year is 1805, and the Calliope, with Richard Sharpe aboard, is captured by a formidable French warship, the Revenant, which has been terrorizing British nautical traffic in the Indian Ocean. Betrayed by the Calliope's Captain in conspiracy with an old foe, Joseph Pohlman, Sharpe finds his treasure absconded with. The French warship races toward the safety of its own fleet, carrying a stolen treaty along with Sharpe's fortune in jewels, that could provoke India into a new war against the British--and render for naught all that Sharpe has bravely fought for up until now. But help comes from an unexpected quarter. Befriended by the Pucelle's Captain, Joel Chase, Sharpe has vowed retribution on the perpetrators and joins in the hunt for the Revenant. Sharpe comes aboard the seventy-four-gun man-of-war in hot pursuit and is taken on as an honourary Marine. What results is a breathtaking retelling of one of the most ferocious and one-sided sea battles in European history, in which Admiral Lord Nelson--and Sharpe--vanquish the combined naval might of France and Spain at Trafalgar. Sharpe experiences his first true love and ecomes enamoured of the notorious seven-barrelled weapon made by Mister Nock of London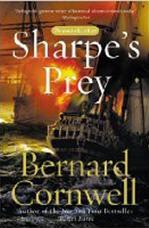 Sharpe's Prey
Expedition to Copenhagen, Denmark, 1807

The year is 1807 and Richard Sharpe, stuck in the lowly role of regimental quartermaster and miserable over the lose of his love, Lady Grace and his infant son, is contemplating leaving the Army. He soon finds himself in the thick of the 1807 British campaign to destroy the Danish navy anchored in Copenhagen before the French can seize the ships and pose another invasion threat. The treacherous murder of a British army officer in London occurs at nearly the same time that Sharpe is taking his long-anticipated revenge out on Jem Hocking, his childhood tormentor. The paths of Captain John Lavisser a traitor working for the French, and Sharpe cross when Sharpe is drafted into duty to escort the vile man on a secret mission to Copenhagen. Lavisser commits treachery and tries to kill Sharpe, leaving him stranded with only a name from which to seek aid, in the Danish countryside and vowing retribution. A final confrontation with Lavisser coincides with the British bombardment of Copenhagen. Along with the swashbuckling action, Sharpe finds romance with the widowed daughter of Britain's top Danish agent, Astrid Skovgaard, who helps him get over the loss of Grace. Sharpe faces an inner turmoil over the temptation to quit the army and remain in Denmark, or persuade Astrid to return with him to England.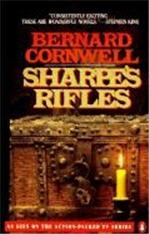 Sharpe's Rifles
French Invasion of Galacia 1809
As with most of the novels, any similarity between the books and the films is purely coincidental. In rifles, it is Louisa Parker, the niece of the missionaries who takes Sharpe's fancy but ends up instead married to Major Blas Vivar. There is no Army money lost. This is set after the retreat to Corunna. Sharpe and what's left of his unit are cut off and after some awkward democratic moments, decide to travel south to Portugal. On the way they meet up with Vivar and his partisans and the three Methodist Missionaries, all the while being pursued by the French.

They end up taking the city of Santiagio, hoisting the flag for a few hours, but lose it when the French patrols arrive. In a final battle against the Chasseur, Sharpe goes mano a mano to get the one thing he really wanted, a new pair of trousers and some boots.






Sharpe's Havoc 1809
Lieutenant Richard Sharpe finds himself fighting the ruthless armies of Napoleon Bonaparte as they try to bring the whole of the Iberian Peninsula under their control. Napoleon is advancing fast through northern Portugal, and no one knows whether the small contingent of British troops stationed in Lisbon will stay to fight or sail back to England. Sharpe, however, does not have a choice: He and his squad of riflemen are ordered to assist Exploring Officer Colonel Christopher in finding the missing daughter of an English wine exporter when the French onslaught begins, and the city of Oporto becomes a setting for carnage and disaster. Stranded behind enemy lines with a ragtag group of Portuguese soldiers commanded by the young and inexperienced Lieutenant Jorge Vicente, Sharpe and his Riflemen stick relentlessly to the mission to find Kate Savage. Sharpe's position on enemy ground is precarious, and his search is further complicated by the scheming Colonel Christopher, who has his own ideas on how the French can be driven from Portugal. Thwarting the plans of the traitorous Colonel Christopher, Sharpe and his band of Riflemen, manage to facilitate the arrival of Wellesley's forces at Oporto. Routing the French from the city, it becomes a race against time and vile weather to prevent Christopher from escaping with the unwilling Kate across the frontier and into Spain.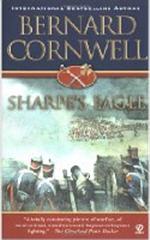 Sharpe's Eagle
Talavera Campaign 1809
Sharpe has earned his captaincy, but there are others--such as the foppish Lieutenant Gibbons and his uncle, Colonel Henry Simmerson--who have bought their commissions despite their incompetence. After their cowardly loss of the regiment's colors, their resentment towards the upstart Sharpe turns to treachery and Sharpe must fight to take an eagle to redeem the honor of his regiment and fulfill an unspoken promise to Major Lennox who died as a result of Sir Henry Simmerson's cowardice. The Eagle isn't the only thing Sharpe's after. He's fixated on Josefina La Costa, an expensive Portuguese lady whom he rescues from Christian Gibbons. Christian can't quite forgive this slight, and tries to kill Sharpe right after he succeeds in taking the Eagle on the battlefield at Talavera. Patrick dispatches the blaggard in the nick of time. Sharpe is a bit peevish because Pat was off looking at his birds and a bit late in the rescue department. Sharpe takes a locket from Gibbons containing a portrait of his sister Jane. He ends up falling in love with the painting, which he sees as the ideal of English womanhood and carries it with him from then on as his talisman.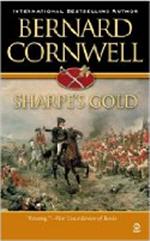 Sharpe's Gold
Destruction of Almeida 1810
Sharpe is after the Spanish Gold because the Army needs it, but the Partisans are also after it. A year after the victory at Talavera, Wellington's army, outnumbered and bankrupt, is on the verge of collapse. Its only hope lies in a cache of gold hidden in the Portuguese mountains that will fund the grand scheme of Wellington's Lines of Torres Vedras, and the only man capable of stealing it is Captain Richard Sharpe. He embarks on a secret mission that pits him against the French army; El Catolico, the fanatical Spanish guerrilla leader; and El Catolico's lover, the beautiful but deadly Teresa. El Catolico doesn't take kindly to Sharpe chasing after his gold or his woman. Sharpe manages to abscond with both: the gold and the woman. It's a race to the relative shelter of Almeida, Sharpe and his men being pursued by both the Spanish and the French. On the run, Sharpe is shot and faints in Patrick's arms waking to find himself in Almeida, with the Partisans close by and surrounded by the French. Also inside Almeida are Portuguese troops led by Sharpe's friend from India, Tom Garrad, now also a Captain in the Portuguese Army. Sharpe and the Partisans dance around each other until Sharpe determined to succeed--even if it means turning against his own side, sees the only way out is to blow all the gunpowder in the fort and sneak out in the confusion, even if it means blowing men like his friend Tom to Kingdom Come.




Sharpe's Escape
Portugal, 1810
Only two obstacles stand between Napoleon's mighty army and its seemingly certain conquest of Portugal: a land wasted and stripped of food at Wellington's orders . . . and Captain Richard Sharpe. While carrying out Wellington's scorched earth policy while the army withdraw behind the formidable Lines of Torres Vedras, Sharpe encounters treachy from within and without: first, by an incompetent British officer, who by virtue of family connections is temporarily given Sharpe's command. An even greater danger is posed by two corrupt Portuguese brothers—Major Ferreira, a high-ranking officer in the army of Portugal, and his brother, nicknamed "Ferragus" who makes no claims to respectability, preferring instead to rule by crude physical strength and pure intimidation. Together the brothers have developed a devious plot to ingratiate themselves with the French invaders who are threatening to become Portugal's new rulers.

Sharpe's interference in the first stage of their plan earns the undying enmity of the brothers. Ferragus vows revenge and plots a merciless trap that seems certain to kill Sharpe and his intimates—battle-tested ally Sergeant Harper, the Portuguese officer Jorge Vicente, and a prickly but lovely English governess. As the city of Coimbra is sacked, Sharpe and his companions plot a daring escape, ensuring that Ferragus will follow on toward Lisbon, into the jaws of a snare laid by Wellington—the massive Lines of Torres Vedras. There, beneath the British guns, Sharpe is reunited with his shattered but grateful company, and meets his enemies in a thrilling and decisive fight.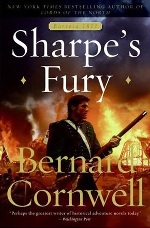 Sharpe's Fury
Battle of Barosa, 1811
The year is 1811. With the British army penned into a small part of Portugal, and all of Spain fallen to the invader except for the coastal city of Cádiz, the French appear to have won their war. Captain Richard Sharpe has no business being in Cádiz, but when an attack on a French-held bridge goes disastrously wrong, Sharpe-accompanied by Harper, his loyal Irish sergeant, and the obnoxious Brigadier Moon-finds himself on the wrong side of the river. Making their way to Cadiz, in hopes of finding a way back north towards Lisbon, a city under siege, he runs into Lord Pumphrey once again. Pumphrey had been involved in Sharpe's adventure to Denmark some years earlier and unbeknownst to Sharpe, had ordered the execution of Sharpe's love, Astrid Skovgaard, and her father after their identities as British agents had been compromised. Sharpe and his handful of Riflemen are drafted into yet another mission for the shady British spymaster to unravel the mystery of the stolen love letters penned by the British Ambassador, Henry Wellesley, to his mistress.

When a British attack on an enemy-held bridge goes disastrously wrong, Sharpe finds himself trapped in a city under siege, a hotbed of treachery, false allies, and pernicious plots. And as dawn breaks on a March morning, Sharpe must be prepared to come to the aid of the charismatic Scotsman, Sir Thomas Graham, the city's would-be liberator, whose small, outnumbered army has been abandoned by the Spanish and is now caught between the the foothills around Barosa and the oceann.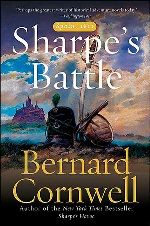 Sharpe's Battle
Battle of Fuentes de Onoro 1811
Sharpe is given responsibility to lead an Irish battalion of the King of Spain's household guard, ceremonial troops untrained and unequipped for battle. While quartered in the crumbling fort of San Isidro, they are attacked by murderous Brigadier General Guy Loup's elite French brigade. Sharpe has witnessed General Loup's despicable war crimes before; to put an end to them, and to settle another, more personal, score, Sharpe must lead his company into the blood-gutted streets of Fuentes de Onoro, where thousands of French troops have amassed, in a battle to the death.

Not trusting the Irish troops, Wellington and Hogan prove themselves to be incredibly ruthless men, certainly willing to risk Sharpe if it means getting rid of a whole barrel of bad apples. Sharpe, meanwhile, must be taught a lesson on the rules of war. Having executed out of hand one of Loup's men, he goads him further and sets off a grudge match, causing the loss of a lot of good men, including his once best friend Tom Garrard who dies setting off an explosion which sends the French scampering and saves Sharpe's life. Sharpe finds the body of his friend, still clutching the metal tinder box they'd gotten back in India. Sharpe holds the ruin of the tinder box for a moment and actually cries. Fortunately for Sharpe, all the witnesses who could have testified against him for his cockup of the unsanctioned execution end up dead by the conclusion.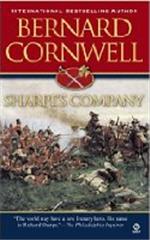 Sharpe's Company
Siege of Badajoz 1812
The siege and storming of Ciudad Rodrigo is over and the city is being sacked while Sharpe worries over his fate now that Lawford has been carried from the breach after losing an arm. A new Colonel for the South Essex may mean his promotion and command of the Light are in jeopardy. Wellington is moving on to Badajoz where the fortress is many times more formidable than Ciudad Rodrigo. The new Colonel arrives, Sharpe loses the Light Company to a new Captain who has purchased over him, and his hated enemy Hakeswill shows up with the draft come from London. On top of all his troubles, Teresa tells him that he has an 8-month old daughter in Badajoz. The only way for Sharpe to secure a future for his daughter is to gain a rank that cannot be taken from him and the only sure way to that goal is through the breach with a Forlorn Hope. But his first priority is to secure his infant daughter and her mother, who are trapped behind the fortress walls, and protect himself from Hakeswill's determination to destroy him.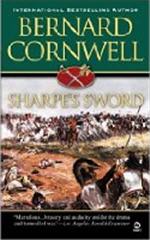 Sharpe's Sword
Salamanca Campaign 1812
The treacherous beauty, Colonel Leroux is killing Britain's most valuable spies, and it's up to Richard Sharpe to stop him. Thrust into the unfamiliar world of political and military intrigue, Sharpe must tangle with La Marquesa, a beguiling, extraordinarily beautiful woman whose embrace is as calculating as it is passionate. As she leads him through a maze of secrecy, cunning, and deception, Sharpe relentlessly pursues Leroux, determined to exact his revenge for treachery with the cold steel of his sword. La Marquesa de Casares el Grande y Melida Sadaba and the lovable Jack Spears prove to Sharpe that people are never what they seem. While intrigue surrounds him, Sharpe has two obsessions he must overcome before he can see them for what they are: he lusts after the Klingenthal sword and the Marquesa. In the end he chooses the sword Patrick made with love, and he chooses his wife, Teresa.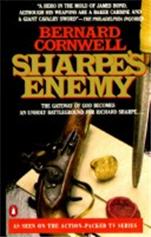 Sharpe's Enemy
Defence of Portugal 1812
Josefina La Costa, from Sharpe's Eagle, has been hired by an elderly Colonel, Sir Augustus Farthingdale, to pose as his wife. She is taken hostage along with several other women by Hakeswill and his army of deserters when they make a pilgrimmage to a shrine in the mountain village of Adrados. Sharpe's battles are much bigger and more complex than those he normally encounters on the battlefield. First he must take the convent, free the hostages, take a watchtower, take a village, round up all the deserters and make it back to the Army alive. After he accomplishes all of that he discovers that the French are making a major push into Portugal through the mountain pass called The Gateway of God where he is recovering from the assault on the deserters' refuge. Outnumbered and attacked from two sides, Sharpe must hold his ground or die in the attempt.
With the help of a new-fangled Rocket Troop, he manages to hold out until reinforcements arrive. During the chaos, Hakeswill, captured by Sharpe, curses him, a curse which almost paralyses Sharpe with fear. Hours later, Hakeswill makes good on his curse by escaping, killing Teresa in the process. Back in camp, Sharpe is wracked by inconsolable guilt and grief. When Hakeswill is executed by firing squad, it is Sharpe who administers the final bullet, proving that indeed Hakeswill could die afterall.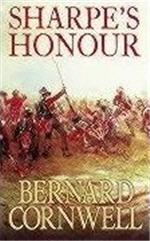 Sharpe's Honour
Vitoria Campaign 1813
The story starts with a verbal joust with Harper over tents and a magnificent bluff where Sharpe manages to convince a French battalion into surrender with no ammunition, his supplies having fallen into the river as they were crossing.

Sharpe is grieving hard and some sort of a death wish leads him to accept a duel with the Marquese de Casares el Grande y Melida Sadaba, husband of Helene, La Marquesa. D'Alembord attempts to teach Sharpe the niceties of fencing before the duel, without any success. The duel turns into an all out brawl but is rudely interrupted. The whole setup leads to Sharpe being arrested for the murder of the Marquese, a murder carried out by assasins arranged by his enemy, Ducos, in a scheme involving a shrewd priest of the Inquisition, his cruel brother, and a secret that can win the war for Napoleon by threatening the fragile alliance between the British and the Spanish.

Believing him innocent, Wellington and Hogan conspire to get Sharpe out of the predicament he is in but it is left to Sharpe as to how he is going to clear his name. Sharpe finds himself a fugitive hunted by both the French and the allies and once again must turn to the treacherous La Marquesa to get to the root of the hijinks with his honour intact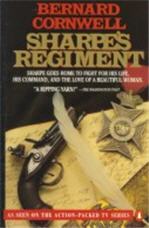 Sharpe's Regiment
Invasion of France 1813
When the South Essex is threatened with disbandment, Sharpe returns to England and discovers an illegal recruiting ring that sells soldiers like cattle to other divisions. Sharpe's old foe, Sir Henry Simmerson and Lord Fenner are behind the plot. Following the discovery that the South Essex supposed second battalion is missing, Sharpe receives a summons to court to meet the Prince Regent. Following his presentation, Sharpe has an opportunity to inform the Prince Regent of the circumstances for his return to England. Lord Fenner realizes that Sharpe is a danger to the hugely profitable plot. Sharpe starts unraveling the details with the help of the mysterious Lady Anne, but Fenner is not about to be exposed, sending assasins after him. But Sharpe is fighting for his command, and as he moves from the dark slums of London to the highest courts of political power, Sharpe will risk charges of treason and death for a final chance at revenge.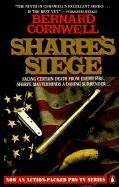 Sharpe's Siege
Winter Campaign 1814
Sharpe's mission seemed simple: capture a small lightly-defended French coastal for. That done, he is to continue inland to raid and cripple Napoleon's supply lines and then retreat across the sea. But behind the lines, Sharpe's old enemy, Pierre Ducos, awaits Sharpe's arrival with a battalion of French soldiers and a vicious commanding general who keeps the scalps of his dead enemies as trophies. Mistakenly believing that Sharpe has perished on his raiding mission to cause havoc on the French roads, Colonel Bamphylde abandons the fort, but not without destroying it first. Sharpe returns from his minor bit of bushwhacking to find the guns spiked and the magazine blown. In the vain hope of seeing the ships return for him and his men, he sees off two French attacks then manages to escape with help from Killick, who had owed Sharpe a favour for saving his life.

There is humour found in the way that Sharpe uses the presence of a toothache-ridden Harper. Harper wasn't supposed to be there in the first place, but he just couldn't let Sharpe go away to fight without him. Sharpe pretends to be annoyed, but it is clear that he's secretly pleased to have the company. He also makes a name to be remembered in the black book of General Calvet with the way that he uses lime to blind the unseasoned conscripts of Calvet's brigade.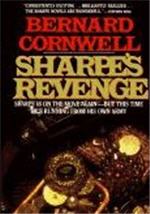 Sharpe's Revenge
Peace of 1814
It is 1814, and the defeat of Napoleon seems imminent--if the well-protected city of Toulouse can be conquered. For Richard Sharpe, the battle turns out to be one of the bloodiest of the Peninsula Wars, and he must draw on his last reserves of strength to lead his troops to victory. For the first time in his fighting career Sharpe starts to suffer from an ominous sense of foreboding, a gut-wrenching fear, prior to the battle. In this shaky frame-of-mind he foolishly leaves Jane in possession of a complete power of attorney and promises her he'll never fight again. He's had enough. He's also surly over a cold hearth and home due to his insistence to fight a duel with Bamphylde over his abandonment of Sharpe and his men at Teste de Buch fort. But, plans are made for after the war and Jane departs for England to establish a home for her and Richard.

Henry Lassan, the French commander who lost his fort to Sharpe, is made to bear 'witness' to Sharpe stealing the treasury of Napoleon Bonaparte after the fall of Toulouse. Everyone thinks he's buried it in the fort and Jane's sudden spending spree in London, as well as the gift of the telescope from Helene in Sharpe's Honour, only cement his seeming guilt. Fredrickson is also drawn into Ducos's vile plot.

Harper springs Sharpe and Frederickson, who travel on to Normandy, ostensibly to find Henry Lassan, only to come up against his sister Lucille, who is armed and vigilant, believing Sharpe responsible for Henri's murder. Sharpe takes the full blast of an old fowling piece in Fredrickson's stead. His injuries are extensive, requiring months to heal. Fredrickson departs to start the hunt for Ducos while Harper heads to London to seek out the errant Jane. Sharpe's animosity towards the French woman who tried to kill him is obvious and intimidates Lucille at first. As the long recovery period progresses, she teaches the stubborn Englishman to speak and read French. By the time Sharpe departs to join Fredrickson en route to Naples to take his revenge on Ducos, Lucille reveals to her doctor friend that she is carrying Sharpe's child

Sharpe collaborates with General Calvet to defeat Ducos and return the gold thereby clearing his name, but he still has unfinished business with Jane to haunt him.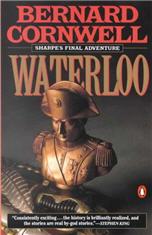 Sharpe's Waterloo
Waterloo Campaign 1815
With the emperor Napoleon at its head, an enormous French army is making a mad dash toward Brussels. The British and their allies are also converging on Brussels--in preparation for the Duchess of Richmond's ball. It is up to Richard Sharpe to convince the Prince of Orange, the inexperienced commander of Wellington's Dutch troops, to act before it it too late. But Sharpe's warning cannot stop the tide of battle. The Allies suffer heavy losses at Quatre Bras, trying to delay the French. Wellington has few reserves of men and ammuntion; the Prussian army has not arrived; and the French advance wields tremendous firepower and determination. Victory is not assured.

Sharpe, Lucille and their son, Henri Patrick Lassan, leave Normandy when Sharpe obtains a position with the Dutch Army on the Prince of Orange's staff. His position is much like that of an Exploring Officer. His reasons for returning are twofold: Sharpe was on half pay pension as a Lieutenant, the only rank the army would officially grant him as holding, and the pay of a Lieutenant Colonel will help him to restore Lucille's farm. The second reason is simply because its what he does. He can't bear the thought of not actually seeing Bonaparte in the flesh after all his years of fighting and the thought that it might all end without him is unacceptable. Hagman, Harris and Harper are also irresistibly drawn towards the coming confrontation. Harper ostensibly is only in Belgium to trade in horses for that is what he promised Isabella. Harper knows that she knows that his real reason for going is to be with "him".

Sharpe and Harper march off to battle, Harper promising that he'll stay out of danger, but never leaves Sharpe's side; it seems the view away from Sharpe is never quite as good, he explains. Sharpe by now is quite a legend on the battlefield, hear of a fantastical tale of him selling dead French cavalry horsemeat to Portuguese. After all these battles, the familiar faces that survive and those that are killed are surprising. Harry Price survives, in spite of tripping over a silly pair of spurs in the face of a French column and Peter D'Alembord is wounded, later losing the leg, after fearing all night that he would die in battle just because he had gotten happily engaged that summer.

Sharpe and Harper come through with nary a scratch, Harper laughing at Sharpe's terrible shot at Silly Billy in revenge for his atrocious leadership. Harper is despatched to tell Lucille that her man lives, and Sharpe, with his dog Nosey following faithfully behind, is rewarded by Wellington once more by being given command of what is left of the South Essex Regiment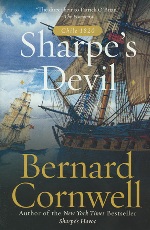 Sharpe's Devil
South America 1820-21
The year is 1820, and Sharpe has quietly passed the years as a farmer since the Battle of Waterloo. Sharpe and Harper are happily reunited when Louisa, Countess of Moromourto, shows up on Sharpe's doorstep to ask him to search for her husband Don Blas Vivar, who has gone missing in South America. Lucille knows nothing of Sharpe's former relationship with Louisa, but does know of his fondness for Don Blas, as such, she is resigned to see her man go off adventuring again, as is Isabella. Harper has put on weight sampling the wares of his business and Sharpe, leaner than ever, can't stop teasing him about it, gruffly hiding how happy he is to see Patrick again.

On the way to Chile, the pair stop off at Saint Helena and manage to have tea with an old villian, Napoleon himself, who gives Sharpe a few souvenirs to carry to an acquaintance in Chile. The lads find the colony is a land seething with corruption and revolt, and are promptly robbed. A plot is in the air as Sharpe and Harper set out to trace the path of Blas Vivar only to find they are intended assasination targets at a mountain fortress. They elude the trap with the help of a friendly officer and a native guide. They find the resting place of the supposed-dead Blas Vivar but find only a dog buried in his grave. They are arrested in the church where Vivar is allegedly buried without any explanation as to why Blas Vivar isn't in his grave. The government authorities attempt to send them back where they came from on the same ship that brought them to Chile, only this time as crewmembers.

Their boat is attacked by Lord Cochrane, scourge of the Spanish Government in Chile, who leads the Navy of the rebel forces. The swashbuckling Cochrane's magnetic personality draws Sharpe and Harper into his plans for making a push on the capital city. Pretending to be sailing under friendly flags they land and, remembering Lossow's charge from Salamanca, Sharpe leads the way to takes first one, then two more forts along the harbour, until the entire harbour is theirs. In the midst of the chaos, Sharpe unravels a double-sided plot: to free Napoleon and set him up a the head of a new Chilean Republic and an opposing plot by a greedy Spanish Governor to keep milking stripping the colony of its riches. The colonial governor, Captain General Miguel Bautista, kills himself in a failed suicide pact with his lover, Marquinez, his second in command. Unknown to Cochrane, the plot to free Napoleon has died with Napoleon.



---

Sharpe's Christmas
Spain 1813
It's Christmas, and in spite of Sharpe not wanting to see anyone die on such a day, the French are determined to fight. Richard Sharpe, commanding the Prince of Wales's Own Volunteers, finds himself in a high, hard place with an enemy brigade on one side and a desperate force of Frenchmen fleeing their defeat in Spain on the other. Luckily for Sharpe, the Colonel leading the fleeing French force is Gudin, the best Colonel Sharpe had ever served under, way back in India (see Sharpe's Tiger). Gudin relates the sorry state of his career since India to Sharpe. Sharpe, fond of the French Colonel, decides to give Gudin his victory.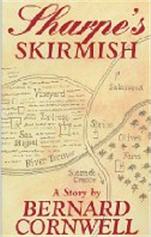 Sharpe's Skirmish
Spain 1813
A brief entry in Bernard Cornwell's Sharpe series, written for and originally published by the Sharpe Appreciation Society. It is the summer of 1812 and Richard Sharpe, newly recovered from the wound he received in the fighting at Salamanca, is given an easy duty; to guard a Commissary Officer posted to an obscure Spanish fort where there are some captured French muskets to repair. But unknown to the British, the French are planning a lightning raid across the River Tormes, and they reckon the obscure Spanish fort, which guards an ancient bridge across the river, will be lightly guarded. Sharpe is in for a fight.
Sharpe's Ransom
Normandy, 1814
It was originally written for British newspaper The Daily Mail which serialised it during the Christmas season of 1995. An extended version was published by The Sharpe Appreciation Society in the short story collection Sharpe's Christmas in 2003 to raise funds for The Bernard and Judy Cornwell Foundation. The story provides of glimpse of Sharpe's life in Normandy with Lucille. The year is post-war 1815, and Richard Sharpe has retired to France and Lucille's farm in Normandy. As it turns out, peace offers no safety from war. An old enemy appears on Christmas Eve to take Sharpe's family hostage. To save them, Sharpe must appeal to the local villagers, reluctant to trust an Englishman who fought against them not so long ago.











---
Home | Guestbook | Reenactors Corner | Sharpe's World | Useful Things | Gallery
---
Owner: Sable
Host: Chimehost
Since: March 11, 2010
©Sable Designs 2008-2015 | Valid CSS
This is not official and I am not Sharpe or Bernard Cornwell. If you have any questions or queries please use the CONTACT FORM. Your submissions for contact will not be posted anywhere within this site. Images, etc are copyright their respective owners. No infringement intended.